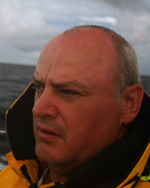 Position 14°00'604S 145°00'758E
Sailing outside the Great Barrier Reef, Australia, Coral Sea.
Hi dear friends, thank you for following my journey. Here is this week's update.
Sailing again.
Life Onboard:
As I prepare to depart Cairns for Darwin a few of my sailing family have arrived here, which in-turn calls for a few 'sundowners'. Okay, that and shopping, the shop is about 1.5 miles away from the dock so I have been shopping two times a day, once in the morning the other during the afternoon. I fill two shopping bags and my backpack on every trip then walk back to the dock, then to the boat and stow the food.
I was hopping to leave here on Tuesday however they issued a strong wind warning, this kept me here until Saturday morning when I departed. I will sail outside the reef to make up time for there I can sail 24hrs a day. Once near the cape I will return inside the reef and sail around the cape and into the Torres Strait.
The Boat:
The compass light which failed during out trashing in the Tasman sea has been repaired, Paul off  SV Blue Stocking, who I me during my sailing across the Pacific last year arrived here this week. He had some 5V LED, using a resistor this would work on 12V, hey presto, a compass light. A lot cheaper than the $12 it cost me in New Zealand.
Fair winds, calm seas.
David.