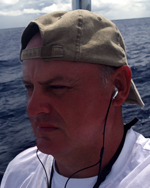 Position 16°54'802S 145°47'195E
At anchor off Cairns, Australia, Coral Sea.
Hi dear friends, thank you for following my journey. Here is this week's update.
A few days rest before continuing on towards Darwin.
Life Onboard:
After another slow weeks progress averaging 39Nm per day, finally on Thursday morning I anchored off Cairns. Ashore soon after arriving to check on emails, I hope by now I have managed to get back to everybody and to catch up on the weekly updates.
To be honest with you, sailing the past 1,000Nm inside the reef's from Brisbane to Cairns was hard work, constantly on lookout, constantly on the go with little if any down time apart from sleeping once I had dropped anchor. Wake at sunrise, weigh anchor and off once again for another slow days sailing in light winds.
I have been stocking up on food, water and fuel hoping to leave here on Tuesday morning however they have just issued strong winds for that day so indeed it may now be Wednesday or Thursday before I can sail on. The first week will be slow for once again day sailing, once past the cape it will be open water for the next 600Nm or so.
The Boat:
I hope I have found the problem with the depth sounder, after carrying out more test I have found a continuity problem, two out of the three wires feeding the transducer have a breakdown somewhere along there route. You may recall Pinta took a pounding in the Tasman Sea, indeed she was airborne on one occasion, some of the fittings below deck show signs of moment so I believe that these wires were cut by something moving. Next to the transducer there is another fitting, the analogue speed sensor, I have not used this unit since entering the Caribbean for it regularly needs cleaning. I have since that time used the SOG (speed over ground) reading from the GPS as an indicator of my current speed, this being the case and with the need to really have a depth reading for there are so many reefs ahead of me I have for now disconnected that cable and fitted it to the transducer, hey presto I now have a working depth indicator.
Once in I arrive, wherever that shall be once I enter the Indian Ocean I shall run a new cable through.
Fair winds, calm seas.
David.