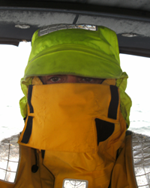 Position 19°14'223S 146°49'446E
At anchor off Townsville, Australia, Coral Sea.
Hi dear friends, thank you for following my journey. Here is this week's update.
A few days rest before continuing on towards Darwin.
Life Onboard:
A very slow week onboard with this day sailing in light winds, very little to report other than I did actually get ashore in Townsville to make a few telephone calls. I stopped in for a few beers on the way back, it was a hot day and well, a good day for a well earned beer, okay several beers then (lol), the bar was called Molly Malone's bar and boy did it fill up quickly, it was busier than a whore house in Pompie (Portsmouth Navy base town in the south of England) when the fleets in on a Friday night!
Townsville is a sleepy town for like most around here it survives on the tourist trade, being off peak season at the present time little was open.
The Boat:
As this is quite, slow sailing I started repairing the damaged gel-coat within the cockpit area, nothing serious just the odd nock here and there that you would expect after being as sea for 1,130 days or so.
Fair winds, calm seas.
David.