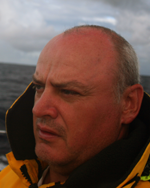 Position 20°01'539S 148°15'574E
Off Saltwater Creek, Port Denison, Bowen, Queensland, Australia, Coral Sea.
Hi dear friends, thank you for following my journey. Here is this week's update.
Non-stop day sailing.
Life Onboard:
Slow sailing, often drifting, it has taken longer than anticipated to reach this far. Once the wind gave up all together I anchored just outside the inner main channel (off Double Island) which leads inside the Great Barrier Reef, the following day I dropping my crew off at Mackay, anchored there for the night before moving on once again. I have tried to sail around forty or more miles per day, anchoring at night, I next anchorage was off Shaw Island, then Woodwark Bay.
I originally stopped there to pick up some diesel however the fuel dock will only sell fuel to accountholders only, so, I left without getting any, low on fuel as I was I just had to weigh anchor and carry on.
The Boat:
Job list, add varnish cupboards in galley area.
Fair winds, calm seas.
David.