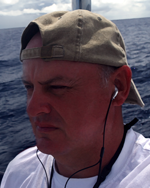 Position 24°09'558S 153°12'552
Off Capricornia section, Great Barrier Reef Marine Park, Australia, Coral Sea.
Hi dear friends, thank you for following my journey. Here is this week's update.
Sailing at last!
Life Onboard:
After a wonderful Australian style Sunday roast at Mike's and Shelia's home it was time to re-supply and get PINTA ready to depart for she needs to be in Darwin for August so to sail across in to the Timor Sea and cross the Indian Ocean, once a suitable weather window materialises.
Australian roast;
Beef, potatoes, parsnips, pumpkin, all cooked in the BBQ.
Jay, joined to crew for a short passage, we intend to sail to Cairns stopping every now and then as we sail behind the south part of the Great Barrier Reef, which stretches for over a thousand miles from Bundaberg in the South to Cape York in the North.
We have had dolphins and or whales come by every day so far this week making this early part of the sail up the east coast of Australia rather special and that's before we reached the marine park.
The Boat:
The work list grows a little;
Compass light.
Depth sounder.
Gearbox oil fill cap parted from thread, the plastic has gone soft.
H.F. radio external loudspeaker.
Onboard email.
Fair winds, calm seas.
David.