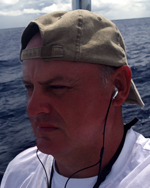 Position 35°18'783S 174°07'422E
Opua, Bay of Islands, New Zealand, South Pacific Ocean.
Hi dear friends, thank you for following my journey. Here is this week's update.
The carnival atmosphere continues as the main fleet arrived here in Opua, on average around five boats a day. The land of fish & chips, steak pies etc… it's been a long time coming..
Life Onboard:
This week has been a relaxing one, rain during the early week meant spending a lot of time working below decks on the website and writing. The evenings, Wednesday, Thursday, Friday have been more social with get together at the Opua yacht club. One beer is $3.50 New Zealand, that drops down to $3 during the happy hour however with the amount of people I no here it works out more economical to just purchase a jug of beer at $7.50.
Denise and Kip (SV Adelia) like so many visiting yachting people purchased a car here so they can see the interior of New Zealand, they drove up the coast on Monday to visit myself and SV Reflections. They very kindly drove me into town later. That even I was invited onboard 'Reflections' for a New Zealand lamb din- ner.
Dean and crew from SV Risqué Affair arrived on Tuesday however a trip to the 'Road runner' bar some forty minute walk away was only the beginning on Tuesday night, we returned home sometime around 03:30hrs the following morning.
The Opua yacht club run races starts at 18:00hrs on Wednesday and Friday evenings. A short race down from one end of the bay to the other, around two hours total.
On Wednesday I attended to OCC (Ocean Cruise Club) social event / meal they arrived and stories 'tall and not so tall' were told about our adventures across the pacific. As more and more friends arrived it ended up being a great night a shore. This was repeated on Thursday and Friday.
As I said, a relaxing, entertaining week in Opua.
The Boat:
I still need to fix the H.F. antenna, I hope to do this on Tuesday next week.
Fair winds, calm seas.
David.