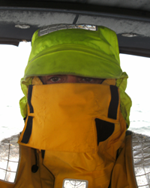 Position 35°43'492S 174°19'638E
Moored at Whangarei Town Basin, New Zealand, South Pacific Ocean.
Hi dear friends, thank you for following my journey. Here is this week's update.
A slow week here only lifted by the occasional, spontaneous boat party's which seem to be getting more and more regular. Time to move on.
Life Onboard:
A quiet week working on the web site, 5 new albums added. On Thursday and Saturday evenings I went out with friends to listen to Andrew, the crew from SV Shangri La. He is a professional singer / song writer.
Sunday was a very special day, I have travelled 20,000Nm and more. I have seen some amazing sights and this Sunday afternoon would add to those. I went to 'abbey' caves just a few miles from here, on entertaining the cave I walked around 100 metres along and 20 metres down. Working my way through a maze until I sat on a rock, water cascading around, over and under rocks, smoothed over thousands of years. I turned off the lamp and wow.. above, like the milky way the cave was lit up by glow-worms, small sparkling green lights everywhere. Truly an amazing sight.
The Boat:
No work carried out this week as I rest my back in preparation to depart for Opua this week.
Fair winds, calm seas.
David.