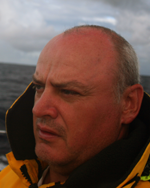 Position 35°43'492S 174°19'638E
Moored at Whangarei Town Basin, New Zealand, South Pacific Ocean.
Hi dear friends, thank you for following my journey. Here is this week's update.
A quiet start to the week here in Whangarei just resting my back however midweek I decided it would be good idea to redo the woodwork below decks.
Life Onboard:
The first few days of the week I just rested and did little, well that's quite true. I know far too many people here so it had been a constant session of visiting other boats, having a 'social beer', or two, okay so perhaps a few more than that (laugh).
Wednesday, a tropical storm which had now eased into, well basically rain and puff was 400Nm off the North Island. This caused us to have 40kn of wind and driving rain for three days so, I could do little topside so I decided to the spend the next four days sanding and varnishing the saloon, galley and heads area. Pinta has never looked better.
On Thursday night I went to Morrison's a local Irish bar, a friend of mine, Andrew was playing live. Andrew is a singer songwriter who has travelled the world singing.
This week also sees some updates to the web site, after almost a year I have upload many new photographs and also a 'RSS' feed. The 'RSS' feed is basically an internet short cut, but more efficient so give it a go. I have another four albums almost ready, these will be upload in the near future.
The Boat:
Now that I am shore power I have found a problem with the water heater, it no longer works! As the power is not tripping out it sounds either more like a problem with the wiring rather than an element issue. As this is a minor problem I am not planning to fix this just yet.
Fair winds, calm seas.
David.