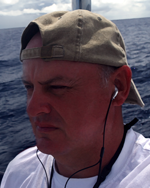 Position 35°43'489S 174°19'641E
Alongside, Whangarei Town Basin, New Zealand, South Pacific Ocean. Location:
Hi dear friends, thank you for following my journey. Here is this week's update.
A difficult motoring passage from Great Barrier Island to Whangarei.
Life Onboard:
It has been a difficult week onboard anchored off Port Fitzroy, Great Barrier Island for I awoke on the 3rd January unable to get out of my bunk. My lower back had been playing up since mid December but I carried on as one must do when your out here.
I had planned to depart for Wellington however I was unable to get the outboard off the dinghy never mind back onboard never mind the dinghy.
It was seven days later before I was able to get in the dinghy and go ashore for supplies, luckily enough I had re-supplied in Auckland and had enough, just!
After an eight hour motor I arrived, moored alongside some good friends of mine that I first met in the Galapagos Islands. Needless to say it has been partying here ever since which, to be honest was the reason I left here in the first place. I know so many people here that there is always either a BBQ or an invite to come onboard for a drink.
Well with it being $1 NZD, that's around 35p UK, for beer if you buy a case, it works out easer to socialise onboard our boats.
One thing leads to another as it always does in this life and then you end up, well, you can guess (laugh).
The Boat:
No work onboard, just resting.
Fair winds, calm seas.
David.