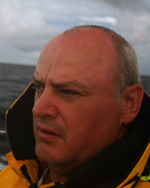 Position 36°10'080S 175°21'402E
At anchor Port Fitzroy, Great Barrier Island, New Zealand, South Pacific Ocean.
Hi dear friends, thank you for following my journey. Here is this week's update.
Happy New Year from Smoke House Bay, Great Barrier Island, New Zealand.
Life Onboard:
You may recall from last weeks update about the BBQ ashore, this is where we welcomed the New Year, surrounded by over sixty boats, hundreds of people either stating onboard or ashore here with us. We had a BBQ of steak, lamb chops, sausages and jacket potatoes. While we were waiting for the BBQ to cool down enough to cook on some locals came over and gave us some 'King Fish' which they had just finished 'smoking'. It taste amazing, fresh out of the smoke house which are build here next to the BBQ area.
All night long people came over to wish us the best, to chat, to well, as always they are just so nice here.
SV Reflections hired a car on the 2nd January so we toured the island, such sights I am truly as lucky person to be here.
The following day SV Reflections had to depart back for Auckland for Simon and Ann had to move on, David. and Juliet will see the rest of NZ by car.
I was supposed to move on also but to Wellington however I was unable to once again get out of my bunk that morning, my back was still playing up. I decided to just rest here on GBI (Great Barrier Island) as it's called until my back is ok. It's fool hardy to sail 300Nm the way my back is, so now I just lay around resting and working on the web site or typing up the book.
I am unable to get the outboard back onboard Pinta never mind the dinghy, I have enough food for four more days. By then I hope my back will have eased enough for me to be able to get in the dinghy and go ashore for supplies.
The Boat:
I has another go at resolving the H.F. problem, I have tried all but one thing now and that will have to wait until I re rig the backstay. The only item which could be causing the problem now is an insulator that may have broken down. There are two in the backstay, one above the bridle, the other one metre down from the top of the mast.
Fair winds, calm seas.
David.