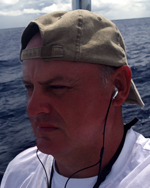 Position 35°48'4171S 174°26'4513E
At anchor Islington Bay (between Motupapu & Rangitoto Islands), New Zealand, South Pacific Ocean.
Hi dear friends, thank you for following my journey. Here is this week's update.
As Christmas is fast approaching it was time to move on to a small yet stunning bay some 6Nm away. This is the beauty of Auckland, indeed New Zealand. One moment you can be in the city / town, the next you could almost be a million miles away.
Life Onboard:
Father Christmas is climbing the radar post as I type this, anchored in Islington Bay, secluded, sheltered and, yes stunning with greenery all around. It is here that SV Reflections and Pinta will spend Christmas. Juliet cooked an amazing full Christmas dinner, there was so much food that I ended up cooking the roast potatoes and parsnips onboard Pinta.
It was an amazing experience, it seemed all of Auckland just go out in their boats, any excuse to just get away from it. There are over 40 boats of all descriptions anchored around me on Christmas Day.
Although my back problems continue I am having a great time here.
Mid week we moved back to Auckland, re stocking on food then departed for the Great Barrier Island, this is party central in NZ. After a night sail over I arrived, as I always like to do at sunset. There is something about arriving in another county, far off island as the sun breaks over the top. What a photograph I have, it could almost be a painting. After weaving my through 'Man Of War' passage 'Smoke House' came into view. This would be where I would see in the New Year.
There is a little wooden shack to the left, wood stacked up high next to it for this is the laundry come bath house. Tom do either you first have to collect wood, burn it in the boiler to heat the water then either washing or bath.
The Boat:
I have scrubbed and oiled all the teak panels onboard, once again Pinta is looking so nice.
Fair winds, calm seas.
David