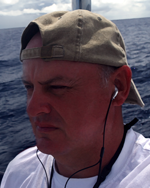 Position 07°55'251S 014°24786'W
At anchor, Georgetown, Ascension Island, South Atlantic Ocean.
Hi dear friends, thank you for following our journey, here is this weeks update.
Well it is finally here, Christmas. I hope you have a lovely day.
Life onboard.
Much the same as last week really. The only downside it is too rough to land ashore so we will spend our Christmas onboard, we have a few bears followed by chicken (with stuffing) roll sandwiches.
With our new friends here we were invited out 'game' fishing, although the Marlin are not around much at the moment we will go after tuna. We only fished for 2 hours but all of us caught a tuna, around 60lbs in weight each. Apart from Ingrid she caught the biggest catch at 87lbs.
Later that week we enjoyed our catch at a BBQ after being invited by the crew of MV Shy III, as tuna is so plentiful here it is so cheep it's used for everything. The best being fish cakes, very spicy em.
There is not much else to report other than that we still do not have a delivery date for the spare parts.
Fair winds and calm seas.
David.