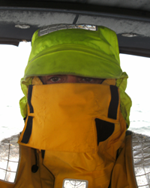 Position Location:
24°45'678S 174°13'013E
On-route to New Zealand, South Pacific Ocean.
Hi dear friends, thank you for following my journey. Here is this week's update.
Well done England
Life Onboard:
The rugby continued into Sunday, for the final I put up a two- metre England flag under the TV, such an atmosphere it was unbelievable. I was there at 04:55hrs to get a seat although when I arrived Chris (SV Halo) was already there and had reserved me my usual seat, front row in front centre.
The boy's played well to get that far, I can ask no more.
The bad weather continued with 40kn still being forecast, it would be a case of sitting until a weather window appeared.
The consensus among the New Zealand guy's is that you wait for a high-pressure system to start moving down, you follow that. However the boats that left last week all lost wind when the caught the high pressure system and had to motor for a few days. It is being blown, literally out all proportion by, well I don't like to say other than they sail in fine climates and are not used to this weather pattern. Not far off panic really, it is putting people off from leaving when they think they should. A Bit like sheep!
I spent weeks studying how the weather system works here, I would try something different. I would wait for a low-pressure system to develop, then as it has done so far, it would move slowly east, I would keep to the west of it. This way I would have a stiff breeze taking me slightly west, the thinking was that as the high pressure system develops around midway I would be on it's west side rather than going through the middle of it and being becalmed.
I am now 456Nm into the passage, the low has moved away, I am now picking up wind from the high-pressure system. Let's hope it dose not move west otherwise, I am buggered. I have had mainly winds around 20 – 25kn however last evening that picked up to 30kn. Today I have 28 – 32kn gusting 40ktn, emm.
The Boat:
I have found out why I am unable to get an email connection after spending three days working in a confined space located right at the stern, which lays between the port quarter and starboard quarter lockers. A space one metre wide, 80cm high and 2.5 metre long. You have to work your way around the auto pilot liner arm, lay on your back and wiggle like a worm, on getting to the other side you have to work upside down.
I have stripped down the ATU (antenna tuning unit) and all cables, I have isolated the problem to either the antenna feeder or a isolator, which is breaking down. I have fitted my amateur radio H.F. antenna, which has a built in ATU on the starboard quarter rail, it works fine but only in the 6 – 8MhZ band, which actually works out fine as we have an SSB net on 8101MhZ USB at 05:00hrs (GMT) every night. I can also get an email connection on 7.045.60 USB however due to its placement my range in limited to 550Nm.
Pinta, like me prefers being at sea, nothing to report apart from a squeaky rudder bearing. Nothing serious it just needs a drop of silicone spray to lubricate the Teflon.
Fair winds, calm seas.
David.