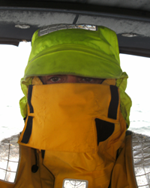 Position 17035'003S 149037'157W
At anchor lagoon Punaauia, Tahiti, South Pacific Ocean.
Hi dear friends, thank you for following my journey. Here is this week's update.
A week spent chasing up the replacement shroud and sourcing other parts.
Life Onboard:
Many in the fleet here at anchor had their computers infected by a rather nasty virus on Wednesday; I spent four days (hence the delay in writing this) sorting out the British (five yachts) and Canadian (one yacht) contingents computers.
The British yachts (and one Canadian) all went ashore on Wednesday evening to sample the free music, which has been set up at three locations along the harbour area. Local musician playing all sorts of music. Next to these sites were located around twenty or so 'mini' street restaurants, cooking everything imaginable, and at a reasonable price. This just added to the atmosphere, and where else in the world could you stand right next to Miss Tahiti and not be surrounded by security. A wonderful night.
Saturday was a fascinating day spent exploring the interior in two land rovers run by 'Tahiti Safari' (www.tahiti-safari.com). The British yachts got together (plus one Canadian) and organised, what the brochure says 'enjoy a hidden world of lakes, high cliffs, lush valley's and waterfalls, uninhabited sine the arrival of western civilisation, 200 years ago'. We stopped for lunch at Maroto, small hotel built high in the hills in what used to be a volcano. For those who may recall the film 'Jurassic Park' and the stunning helicopter shots of lush valleys and water falls, well, that's where it was filmed, although the rest of the film was shot in Hawaii.
What a sight to behold, being in the rough, steep hills surrounded in all directions by waterfalls. Our guide 'Taive' later took us to his home, he also works as a local dancer at some of the tourist attractions where he dances the 'Ori Tahiti' or traditional dance of the islands. Along the way we stooped at some of the waterfalls to swim, or just to stand there and be totally speechless by the sights around us. 'Taive' would go on to tell us all about the island he loves so much, for example, how the local girls would use the centre of one of the flowers as lipstick, another as perfume or a flower that starts it's life out yellow in colour and through it's life cycle (24 hours) would change it's colour to orange, then red before dropping off the plant.
At the anchorage we are consistently surrounded by 20 to 30 'Vaa' (outrigger canoe) as they practice for the celebrations in the coming weeks.
Also, as I am often away from Pinta early in the morning fixing broken computers, upon my return there are often baguettes, beer or the odd bottle of whisky left in the cockpit. A truly good week here in Tahiti.
The Boat:
I have spliced and fitted the replacement steering cables; they seem to work ok, only time will tell. I am awaiting news about the shroud; I hope to have news today.
Nana, Parahi (good bye)
David.