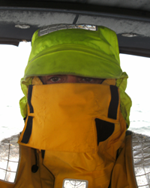 Position 12°35'764N 061°24'901W
At anchor off Clifton, Union Island, St Vincent & The Grenadines
Hi dear friends, thank you for following my journey. Here is this week's update.
Another week, another country. I am now in St Vincent & the Grenadines, to be more precise I am anchored off the 'Union Island', Union Island is among one of the 35 or so Island which make up the Grenadines. The Grenadines are politically shared between St Vincent and Grenada.
As we are still in the hurricane season Clifton is very quite, a sleepy little settlement which has a few stores, a few restaurants and a yacht club. There is nothing happening here and so this is the ideal time to visit, should I come back this way next month there will be 20 – 30 yachts anchored here, at the moment there are only four.
This area of the Caribbean is off the tourist track in that the only tourist here are those who sail here, however saying that there is a cute little airport, the runway being no bigger than 600 – 700 metres long and no wider than 20 metres.
To be honest, if you a fly here you deserve a medal for once you fly over the two mountains on the approach to the airstrip you drop straight away to palm tree height, then once clear drop gently (em) onto the runway. Reverse thrust straight away otherwise you might get wet feet.
I had planned to leave here yesterday (Saturday) on-route for St Vincent but we have had 30 – 36kn of wind for 16 hours straight now. When it is this windy I like to stay up and make sure we are safe so I returned to my bunk for a few hours' kip later in the morning once the wind dropped to 25kn.
Two yachts were in trouble at 18:00hrs as the wind first arrived. The problem out here is close quarter anchoring. By that I mean anchoring within 10 – 15 metres of other vessels, anchoring here is an art in its own right. You have to anchor with vessels of similar size and construction as your vessel otherwise when the wind gets up it will move the light (normally the plastic fantastic) yachts first. The heaver metal or cement yachts tack a while to build up momentum and if you are not careful you will collide.
This happened last night when the first of the charter yachts (Moorings) I have seen out here anchored next to an 80 – 90 foot metal schooner, needless to say as soon as the breeze picked up the plastic fantastic yacht started to move but the schooner did not. This was in a 14kn wind, then suddenly the wind went straight to 36kn. You can guess what happened, the plastic fantastic yacht spent many hours banging against the schooners quarter. I could hear the unmistakable sound of fibreglass mating with an unwilling partner.
Later at 03:00hrs the schooner herself was in difficulties, by 06:00hrs all was ok albeit with winds still gusting 30kn.
The other problem with anchoring out here are the different scopes used by different nations. The English, Germans, Dutch etc (excluding the French) anchor with a ratio of 3 to 4 to 1 while the Americans use 6 or even 10 to 1. All chain.
After being out here for a while I always anchor near either the Dutch, Belgium or Australians etc.. I give the Americans a wide berth and as for the French, well know one out here likes the French.
The Germans nearly always use a German brand of anchor, which has a half loop on the opposite to the plough, and for some reason this anchor is crap on bottom surfaces such as light gravel. I have spent many hours watching German yachts pass me bye so gracefully as they drag there anchor while on deck the crew seem to be doing some new fancy dance.
Now I am not knocking any nation here, I was very interested to find out why the difference in scope is used so I visited the local chandlery out here called 'Budget Marine', a bit like the 'Tesco' of the marine world. As it turns out there are posters around the anchor department giving the recommended scope from the anchor manufactures.
Hats of to my American friends, they follow there guidance to the letter. 6 or 10-1
Life onboard:
As mentioned above this is a very quite area with not much happening so after exploring the area I have spent the majority of my time liming out in the hammock.
I am anchored behind two reefs, on my Port hand side is 'Thomson' and to my Starboard is 'Newlands' reef. Just off shore is the cutest little Island called 'Palm Island' with beautiful beaches and a lagoon at its centre. Next time I am down this way I will explore the Island, it looks amazing from here.
The Boat:
Pinta has once again been a good girl with know work carried out other than the once a month, clean and Teak oil.
Fair winds and calm seas.
David.