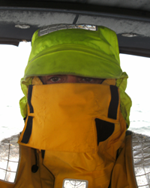 Position 36°49'714S 174°45'834E
At anchor 0.5Nm north of Auckland, New Zealand, South Pacific Ocean.
Hi dear friends, thank you for following my journey. Here is this week's update.
A week long passage to sail 50Nm to Auckland, welcome to sailing around New Zealand.
Life Onboard:
There are few words that describe seeing Auckland for the first time, a modern skyscraper city, lit at night with the central focus on 'Sky City', In the style of the BT tower (London). Colours through the spectrum, Blue's, Green's to Red's.
A quite introduction to Auckland for I took it easy for the first few day's working onboard. Ashore on Tuesday afternoon, the mission was a simple one, I needed some essential supplies. This however I have to report I failed in miserably. It all went down hill while waiting for the ferry which would take me across the bay to downtown Auckland. I started speaking to a chap next to me, he turned out to be an X-pat. One thing led to another and so it was I found myself at 'Sqashies', a local sailing bar. Things compounded themselves and so I ended up staying three, making new friends as one does.
As the night moved on so did the time to leave for the last ferry stops running at 21:20hrs (local). Roger and Mary-Rose very kindly gave me a lift back to the ferry stations. As they drove off I moved on into the terminal only to find I had mist the ferry by eight minutes. I decided to make the night of it by sleeping in the terminal area however security had other ideas and so I was moved on. I reluctantly acquired a taxi, the have a bad reputation of not only being expensive bit also they often get lost!
Although the journey to the other side is around 15Nm, at this time of night 23:00hrs it would be long one with road works on the bridge which stretches across joining the two bays. The taxi drive as per usual got lost and ended up dropping me off at the Navy base, as I started to walk the rest of the way I stopped a car for directions, it turned out to be an Englishman, who very kindly took me the rest of the way.
So it was at 01:00hrs I returned to the dinghy, without any supplies what so ever. I started making my way back to Pinta when the outboard filed, I quickly through over the anchor so to stop me being blow away with the 20kn of wind. Unable to restart the outboard I started paddling with the one oar I have remaining, kneeling over the bow, paddling one stoke on the port side followed by a stroke on the starboard side. Eventually I made it back onboard at around 01:30hrs.
I went shopping the following day for the supplies I should have got yesterday. Later I went of exploring the area.
On Friday I sailed in the Rum race, a casual sailing race in high speed racing machines where the emphasis was on drinking as much as you can while trying to sail around a given course. It started well, we had worked out the route etc. We crossed the starting line first and maintained that position until we noticed all the yachts moving to leeward, some how we had the wrong race course and so we dropped back behind the leaders so we could follow them. We ended up third, which was not too bad considering we did not no where we were going.
The Boat:
Pinta remains as always a good girl, no jobs this week, well that I can do here anyway.
Fair winds, calm seas.
David.