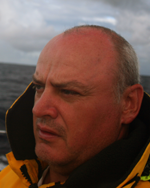 Position 36°50'920S 147°47'978E
At anchor Pokanoa Point, off Auckland, New Zealand, South Pacific Ocean.
Hi dear friends, thank you for following my journey. Here is this week's update.
A week long passage to sail 50Nm to Auckland, welcome to sailing around NZ.
Life Onboard:
The forecast looked good for the short sail down from Whangarei (pronounced 'Fangeray') to Auckland, so ashore early for supplies in readiness for a 14:00hrs (local) departure. I motored down stream to the next marine to top up on diesel then continued along to 'Urquhart's Bay'. The plan was anchor to there for the night and leave around sunrise.
It was a painfully slow passage with very light winds, often punching a 0.5kn current. My first choice of anchorage, once I realised I would be unable to complete the passage today was a small inlet called 'Omaha Cove, however on passing the entrance I decided to abandon that idea and carry on. I would try and reach 'Kawau Island' some 9Nm miles further South. I arrived off 'Bon Accord' Harbour at around sunset.
It rained for the next two days, with winds gusting 35kn at times. I awoke one morning to drips of water from the deck head, by the compression post. The rain was so heavy it had worked it's way through the cable glands topside. Even with Pinta's bow being continually underwater for two days had not produced a drip so you can judge for yourself how much rain there was. One it had stopped it took me forty minutes to bail out the Wilson.
Despite the rain you can see why 'Aotearoa' (the land of the long white cloud), god's country for it is truly amazing here.
On Thursday the weather forecast was issuing a strong wind warning, with winds of around 50kn around sunset, with that in mind I moved across the harbour to, well what I must say is one of the most beautiful bays I have ever seen. An old colonial style mansion house stood surrounded by trees so tall they could almost touch the sky. Crystal clear water sounded Pinta.
I spent two days at anchor there before the winds eased off enough to carry on the 15Nm to Auckland, I departed 'Kawau Island' at 09:00hrs (local) on Saturday. As usual now I sail surrounded with whales frolicking, at peace with their environment, moving so gently as they roll around on the surface. Some eight hours later I arrived, sailing right up to and into the approaches to Auckland. Reminiscences of times gone before sailing in my youth as I conical (Starboard) and can shaped (Port) buoys leading the way to Auckland.
I dropped anchor in walking distance of downtown Auckland however the weather once again deteriorated, it would be another few days before I would be able to step ashore.
The Boat:
There are a few little jobs which need doing, a broken door hinge on the locker under the sink in the heads and a breakdown somewhere in the bilge pump circuitry. These would have to wait for a calmer anchorage.
Fair winds, calm seas.
David.