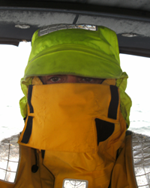 Position 12°26'940S 140°39'037E
Cullen Bay, Port of Darwin, Australia, Indian Ocean.
Hi dear friends, thank you for following my journey. Here is this week's update.
A week of resting, socialising then getting Pinta ready to depart Australia.
Life Onboard:
I took the opportunity to rest up during the beginning of the week for I new I would have plenty to do later.
As usual my plans did not quite work out for I found many friends here, both new and old and so it was inevitable that many sundowners would follow. Graham and Judy off  SV Nomad Life, Paul off 'Blue Stocking' amongst many more.
After filling up with fuel and cooking gas I new I could relax a little more so I visited SV Nomad Life for sundowner which then turned into an adventure. They kindly moved there dinghy so I could secure mine however after checking the anchor (taking a leak over the side) we noticed there dinghy had gone. Myself and Nock off 'Kieka' went off searching for it. A hopeless task in reality but one has to try. We searched most of the area apart from where it was too dangerous to go in our rubber dinghies, i.e. right in close to the rocks.
Without there dinghy we returned back onboard and, well just got drunk basically. Sometime in the morning (I had stayed onboard) we woke and I take them ashore to continue the search while I returned to Pinta. An hour later a radio message from them saying they had found it minus the fuel. Still they had there dinghy back.
Several sundowners onboard SV Blue Stocking and Jade (Dirk & Linda) followed before it was time for me to leave Darwin and Australia.
The Boat:
The cooker gimbals were replaced.
Fair winds, calm seas.
David.