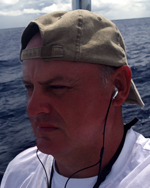 Position 11°43'891S 114°08'950E 176Nm
South of Bali, Java Trench, Tasman Sea, Indian Ocean.
Hi dear friends, thank you for following my journey. Here is this week's update.
Slow start to the week in light, flaky winds.
Life Onboard:
With my ongoing health problems it is becoming increasingly difficult to move around Pinta.
I caught my first fish in the Indian Ocean, a nice tender 20Ib Tuna. Marinated this went down very well, lasting four days.
A relatively quiet weeks sailing in light conditions. The only problems are the oil tankers coming out of the Lombok Strait on autopilot and with no sign of any lookouts. I had to call the 'Cape of Saturn' on the V.H.F. for we were on a collision course, they showed no sign of altering course. Even after radio contact they failed to manoeuvre so I had to take avoiding action by turning 90o to port thus running 'Red to Red'.
Before and after that incident I have been sailing for the past two and a half days through the fishing fleet which lay around 10Nm of line out at a time. To be honest they have been very good. Altering course for me, which they do not have to do as they are engaged in fishing.
The only other problems has been the flaky wind. As it was so light I have had to use the autopilot's windvane function however every time there is a wind shift an alarm tells you so. You have to go manually to the cockpit consul to acknowledge the alarm. This noise this alarm makes is the same as the radar guard alarm so one must not get used the noise otherwise one might not wake up should the radar pickup another vessel whilst I am a sleep.
The Boat:
No problems this week.
Fair winds, calm seas.
David.