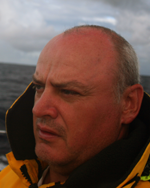 Position 08°33'110S 075°15'063E 184Nm
South east of the Chagos Archipelago, Mid Indian Basin, Indian Ocean.
Content:
Hi dear friends, thank you for following my journey. Here is this week's update.
Day 33: A more subdued week upon the Indian Ocean with light winds calm sea's accompanied with rain, rain and yet more rain. Squall after squall after squall. Lightening everywhere.
Life Onboard:
Life, to experience new things, new experience and new adventures. Well this week lived up to that although not life changing or to be honest very dramatic it was nether the less something I had not seen so far during my life.
Sailing under a rainbow at night although not colourful as during daylight, indeed all that could be seen was the ark made up of different shades of grey but never the less it was one of those moments one shall never forget. With a waning gibbous moon (88%) lighting the not only the heavens but also the sea there was an eerie feel to it all.
Sail west until the wind knows best;
Like so often when sailing it is difficult, often impossible to take the direct route. I will sail about 1,000Nm more than I need too just to keep favourable winds. The first 24 days of this passage the winds have been from the East they then veered to the South East which was ideal putting me on a COG of 285° True however a few days latter they backed to the East.
I am trying to stay south of the Chagos Archipelago so to keep the winds for If I go further north between Chagos and the Maldives I approach the Equator and thus the sailors delight called the doldrums. Keeping to the South and heading West will in about five days time bring me in to winds running from the sea along the coast and up to the 'Horn of Africa'. Well that's the theory, I will let you know next week as to the reality. I have covered 3,492Nm so far.
Food and water are holding up as expected although the fleet as a whole are not doing so well when it comes to fishing. Only Pinta (Mr 'B' note) and 'Vilvin' have caught anything. Ideally that needs to improve otherwise it will make for an interesting last few days of the passage.
The Boat:
No new problems to report. The radar post 'running' repairs are holding up well as is the 'whammy' repairs to a feeding block on the self-steering.
Fair winds, calm seas.
David.